Is Having More Children Islamic?
An un-Quranic idea spread by the traditional circle is that it is virtuous in the sight of Allah to have as many children as possible. This teaching is in direct opposition to Quranic values on how a believer should perceive children.
They teach that having as many children as possible will make them better worthy of Paradise. Allah teaches against this mentality:
"And they said: 'We have more wealth and more children, and we will not be punished'." (Qur'an 34:35)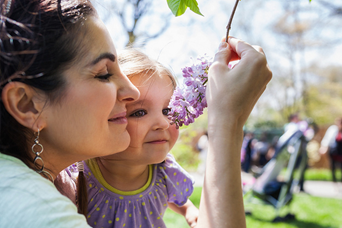 This infers that more children is not what draws one near to Allah. Allah teaches the believers:
"Neither wealth nor children will bring you nearer to Us, but those who believe and do good deeds will have multiple rewards for what they have done, and will live safely in the lofty dwellings of Paradise." (Qur'an 34:37)
The Qur'an frequently mentions children along with wealth. The mentality indicated here is indeed observable among people in the way they take pride in their children, in a similar manner they do with their wealth. For example, they compete with one another in whose child attends the best university, or has the best career, or generally like to have an affluent perception of their family in the community.
"Wealth and children are the attractions of the life of this world. But the good deeds which endure are better in your Lord's sight and better in respect of hope." (Qur'an 18:46)
The religious view used to approve having more children (increasing size of the "ummah") is an attempt at rationalising a highly irreligious concept with religion (that is not based on the Qur'an anyway) - so that a person calling himself a believer, enjoys something not approved by Allah believing it is.
"Know that the life of this world is merely a game and a diversion and allurement and a cause of boasting among yourselves and trying to outdo one another in wealth and children: like the plant-growth after rain which delights the cultivators, but then it withers and you see it turning yellow, and then it becomes broken stubble. In the hereafter there is terrible punishment but also forgiveness from Allah and His good pleasure. The life of this world is nothing but the enjoyment of delusion." (Qur'an 57:20)
The traditional circle also teach that it is permissible for a man to marry a second wife if the first wife is barren, or simply to produce more children than one woman can endure giving birth to. The Qur'an does not allow polygamy under any circumstance (save the exceptional case mentioned in the verse). See Polygamy - To Mothers of Orphans Only.
They forbade the use of contraception / birth control for believing couples saying they must have as many children as possible. As seen in this article, this is a highly un-Quranic reason. And to use this "reason" to make an unauthorised prohibition is yet another violation of the Qur'an. See Contraception / Birth Control is Not Forbidden.

Share this Article:
See also:

---
All materials can be freely copied, printed or distributed. Please cite this website as the source.